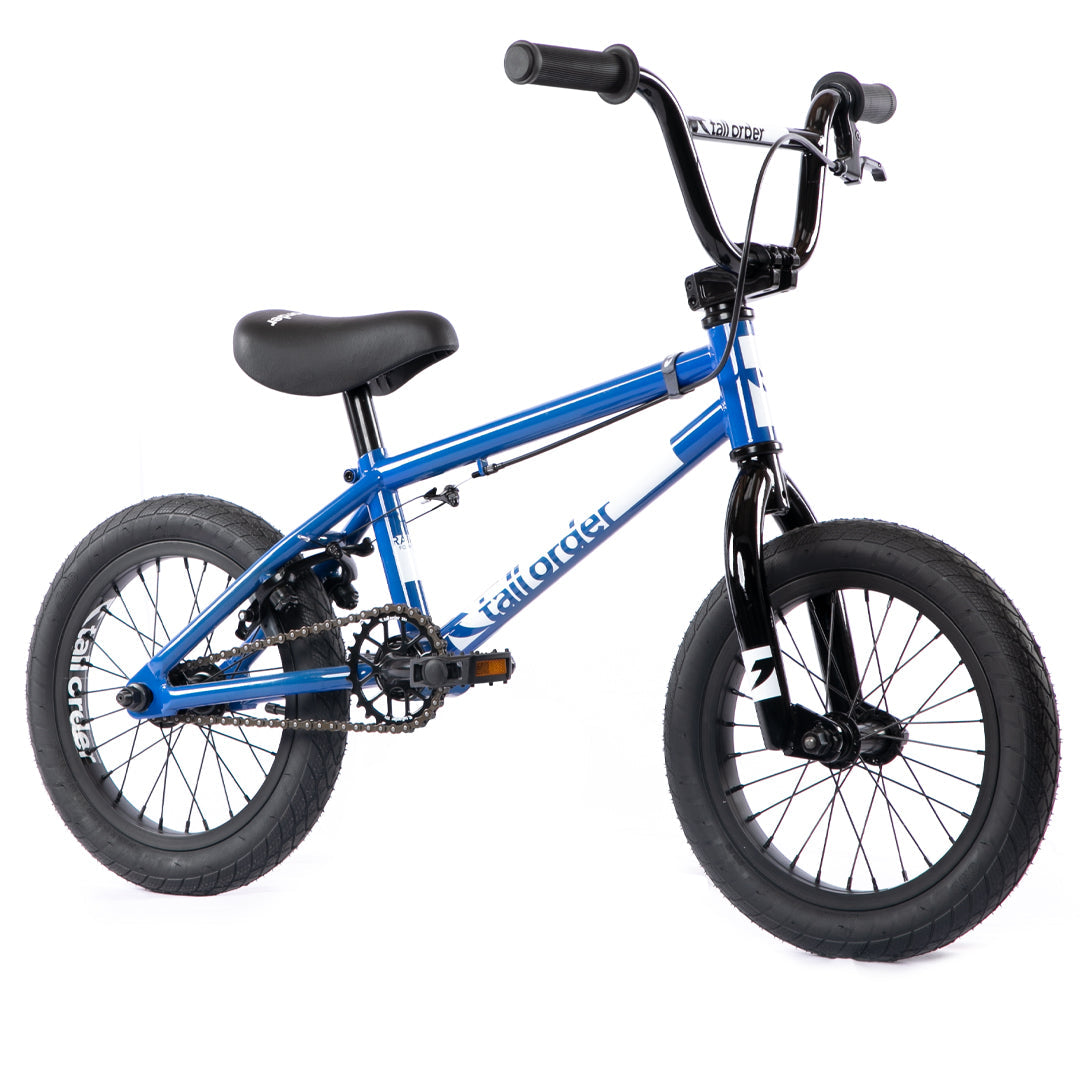 Tall Order Ramp 14" BMX Bike - Gloss Blue With Black Parts 14.5"
£254.99 GBP £339.99 GBP
COTA022-BL2-1450
Tall Order Ramp 14" Bike - Gloss Blue With Black Parts 14.5"
All bikes are designed solely for off road use and do not include a road safety kit. This was done to reduce plastic waste as they are rarely ever used and just end up in landfill. If this is required it can be purchased separately.
Are you looking for your child's first BMX to learn the basics on ramps, the race track or the street. The best possible starting advantage you could gift to them is to make it a tall order Ramp Bike.
The Ramp 14" bike has been designed as the perfect entry into BMX for kids, aimed at under 5year old's. We have utilized the best materials we could whilst keeping the bike at an affordable price.
Look good, feel good ride good.
Features
Frame Material: 100% Hi-Ten Steel With Stamped Logo Top Tube Gusset

Fork: 100% Hi-Ten Steel With Tapered Fork Legs

Bars: 2pc, 6" Rise Hi-Ten Steel

Stem: Alloy Top Load 40mm Reach

Headset: Headset Unsealed

Cranks: 1pc Steel, 114mm Long

Pedals: Plastic unsealed

Bottom Bracket: USA Unsealed

Sprocket: 25T Steel

Chain: 410

Seat: 1pc Combo With Steel Post

Front Hub: Steel Looseball front hub with 10mm axle

Rear Hub: Loose ball cassette hub, 10mm axle with 14mm adapter

Rims: Alloy 28 Hole Single Wall

Tyres: 14" x 2.00"

Brake Lever: Alloy 2 Finger

Brake: U Brake With Linear Cable and soft compound pads

Grips: 100mm flangeless

Weight: 8.62kg
Frame Geometry:
Top Tube Length: 14.5"

Chain Stay Length: 10.25"

Head Tube Angle: 74°

Seat Tube Angle: 71°

Stand Over Height: 6.5"

Bottom Bracket Height: 5.5"